#3) Ancient Roman Coin
Small Bronze Nummis (a.k.a. Follis) of Constans, A.D. 337 - 350
Rome mint, A.D. 337-340
RIC 26
Obverse: D N FL CONSTANS AVG
Reverse: SECVRITAS REI P - Securitas, standing, facing right, legs crossed, leaning on column and holding scepter.
This reverse type is known only from the Rome mint.]
R*[Q?] in exergue.
16 mm, 1.6 g.


SOLD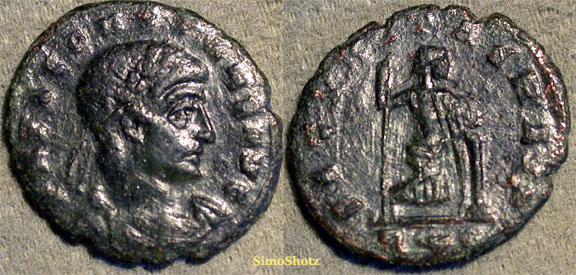 Constans was the youngest of the three sons of Constantine the Great who became Augusti after their father's death. Despite his skills as a military leader, his arrogance and general unpleasantness left him vulnerable to betrayal--a weakness that Magnentius was all too willing to exploit. His death in 350 A.D. was cause for celebration by his own troops, who, by this time, detested him.
Thanks for looking