#4) Bronze Nummis (a.k.a. Follis) of Constans, A.D. 337-350
Siscia mint, A.D. 348-350
RIC 238
Obverse: D N CONSTA-NS P F AVG
Reverse: FEL TEMP REPARATIO - Emperor on galley, holding laborum (standard with Chi-Rho) in left hand and phoenix on globe in right. Galley steered by Victory (at helm).
BSIS[upside-down U] in exergue

18 mm, 2.3 g.
SOLD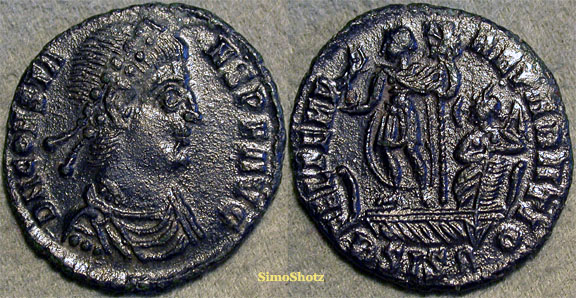 Constans was the youngest of the three sons of Constantine the Great who became Augusti after their father's death. Despite his skills as a military leader, his arrogance and general unpleasantness left him vulnerable to betrayal--a weakness that Magnentius was all too willing to exploit. His death in 350 A.D. was cause for celebration by his own troops, who, by this time, detested him.
Thanks for looking!

Return