#13) Provincial Bronze (AE24) of Diadumenian, A.D. 217-218
Moesia Inferior, Nikopolis ad Istrum
Moushmov 1356
Obverse: M OΠEΛ ΔIAΔYMENIANOC.
Reverse: VΠ CTA ΛONΓINOY NIKOΠOΛITΩN ΠPOC I[CT?] - Tyche, standing facing left, holding cornucopiae and resting hand on rudder. (Magistrate: Statius Longinus)
24 mm, 10.4 g.
$50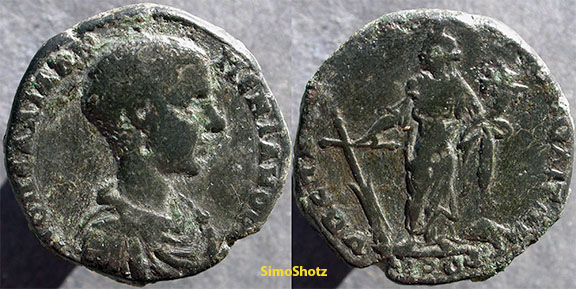 Diadumenian was the son of Macrinus. Like his father's, his reign was too brief to be of much consequence. He was executed shortly after his assuming the title of Augustus by troops supporting Elagabalus. Little is known of him, and what little has been written is not very flattering.
Thanks for looking!

Return