#9) Bronze Nummus of Diocletian, (A.D. 284 - 305).
Siscia mint, A.D. 299.
RIC 108a.
Obv: IMP DIOCLETIANVS P F AVG.
Rev: GENIO POP-VLI ROMANI - Genius, modius on head, nude except for chlamys hanging from shoulder, holding patera and cornucopiae.
SIS in exergue; Γ in right field.
28 mm, 9.9 g.
SOLD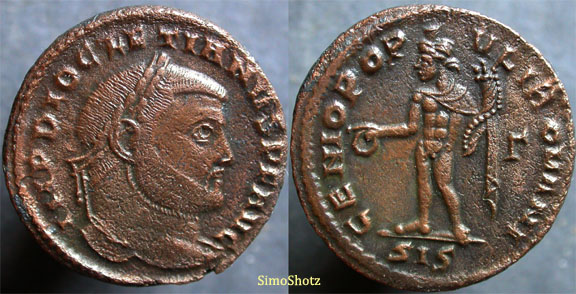 Diocletian was declared emperor after the death of Numerian. He initiated some of the most profound governmental reforms in the Empire's history, dividing it into four regions with four separate leaders--two Augusti (senior emperors) and two Caesars (junior emperors). His coinage reform of A.D. 294 abolished provincial coinage and ensured uniform denominations throughout the Empire. In A.D. 305 he retired peacefully and spent the rest of his life quietly growing cabbages on his estate on the Dalmatian Coast. A hard-working, conscientious emperor, he is remembered today as one of the very few Emperors to voluntarily give up power, and as the last emperor to initiate persecution of the Christians.
Thanks for looking!
Return