#14) Provincial Bronze (AE18) of Elagabalus, A.D. 218-222
Thrace, Philippolis
Moushmov 5423
Obverse: AVT K MAYP ANTΩNINOC.
Reverse: [ΦIΛIΠ]ΠOΛITΩN NEΩKOPΩ[N] - Serpent entwined tripod (celebrating the Neokorus of the city along with a festival of Pythia)
18 mm, 4.3 g.


SOLD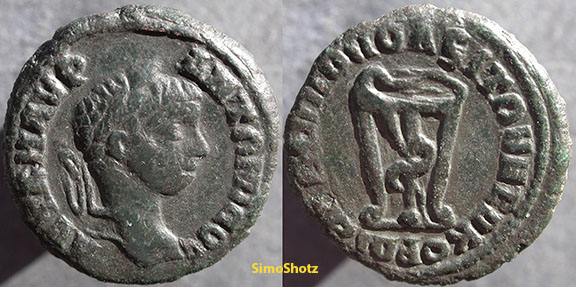 Raised to be a priest of the Elagabalus (Baal) cult, Antoninus, known to history as Elagabalus, was 14 years old when he was brought to Rome by his grandmother to be emperor. His exotic Eastern influences and his flamboyant sexual escapades proved to be too much for conservative Roman society, and he was executed about the time of his eighteenth birthday.
Thanks for looking!

Return