Victorinus




Augustus A.D. 269-271


Bronze Antoninianus
Gallic Empire, unidentified southern mint
Obv: IMP C VICTORINVS P F AVG
Rev: SALVS AVG - Salus, standing left, with scepter and patera, feeding snake coiled around altar
RIC 71, var.
18x20mm, 2.3g.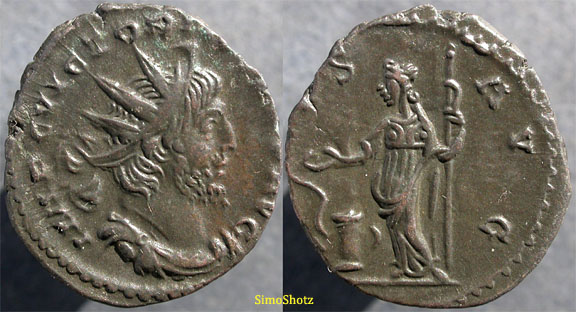 One of the more obscure emperors, Victorinus rose to power in the breakaway Gallic Empire after inciting his troops to rebel against Marius. After ruling successfully for a few years, Victorinus was murdered by one of his officers, supposedly for seducing the officer's wife.

Return
Note: RIC does not mention the patera or scepter in describing this coin. This is probably an omission. All version of this coin that I have seen include them.