#10) Bronze Nummus (a.k.a. Follis) of Galerius, as Caesar, (A.D. 305 - 311).
Antioch Mint, A.D. 300 - 301.
RIC 55b.
Obv: GAL VAL MAXIMINVS NOB CAES.
Rev: GENIO POPV-LI ROMANI - Genius, modius on head, nude except for chlamys over left shoulder, holding cornucopiae and pouring wine from patera.
ANT in exergue; K in left field; E over V in right.
27 mm, 10.5 g.
SOLD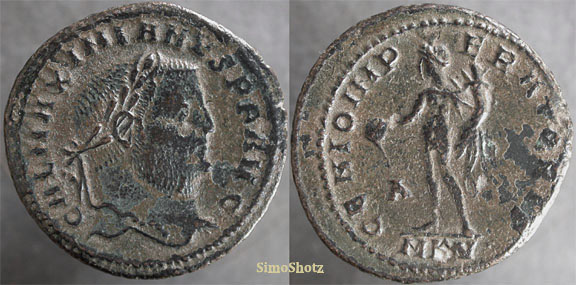 Ruthless, scheming and manipulative, Galerius Valerius Maximianus, called Galerius to distinguish him from his co-ruler Maximianus, tried to take over the Tetrarchy by appointing puppets as Caesars. He also initiated relentless persecution of the Christians. In the end, however, all his efforts proved fruitless. Early Christian historians claim that his slow, painful and humiliating death was punishment from God for his treatment of the Christians.
Thanks for looking!