#20) Provincial Bronze (AE17) of Lucius Verus, (A.D. 161-168).
Bithynia, Nicomedia.
Unpublished, but variant of RPC online, temporary number 6077, attributed to Marcus Aurelius. See also Rec. Gen., plate XCI.4 (rev.)
Obv: AV K Λ AVP OVHPOC.
Rev: NIKOMHΔΕIAC - Demeter, standing left, hodling patera and long torch.
17 mm, 4.2 g.
$25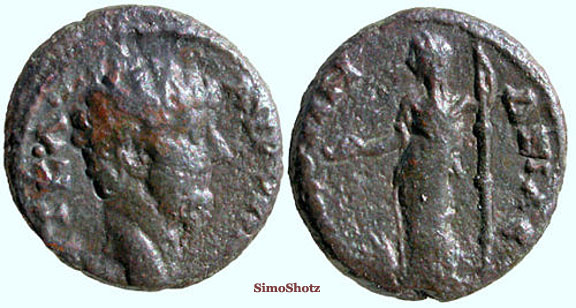 Lucius Verus was appointed, along with his older cousin Marcus Aurelius, by Antoninus Pius as his successor. For a while after Anoninius Pius' death Marcus Aurelius and Lucius Verus ruled as co-emperors, although Lucius Verus generally was treated more like a junior emperor. Despite his love of comfort and extravagence, Verus was a competent leader, popular with his troops and successful on the battlefield.
Thanks for looking!