#22) Provincial (AE27) of Macrinus, A.D. 217-218
Moesia Inferior, Nikopolis ad Istrum
Moushmov 1260
Obverse: AV K OΠΠEΛ CE-VH MAKPINOC.
Reverse: VΠ AΓPIΠΠA NIKOΠOΛITΩN ΠPOC ICT Π; Ω in exergue - Homonoia, standing, facing left, holding cornucopiae and sacrificing with patera at flaming altar. (Magistrate: Claudius Agrippa)
27 mm, 9.5 g.
SOLD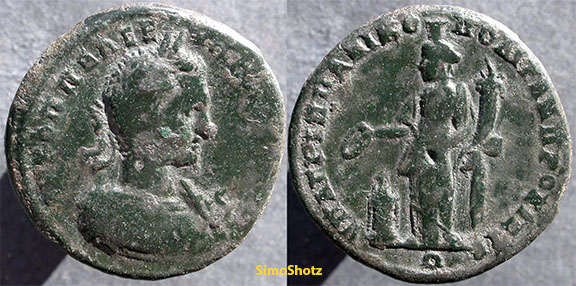 Macrinus was the prefect of Caracalla's Praetorian Guards. Charged with protecting the emperor, Macrinus secretly plotted against and eventually assassinated him. As emperor, Macrinus reformed and stabilized the currency and tended to pursue peace over conquest. This caution on the battlefield alienated the Roman military, and his soldiers abandoned him in battle against the forces of Elagabalus, whereupon Macrinus was captured and promptly executed by the new emperor.
Thanks for looking!