Our Hiking Adventure Along the South Downs Way
Page 1
Go to Page: 2, 3, 4, 5, 6,

7,

8


Dear Family and Friends,
We are sharing the adventure of our trip in some detail to both share the joy we felt and also to entice other possible walkers. We are thinking of celebrating our 30th Wedding Anniversary on "el Camino de Santiago" a 400 mile pilgrimage in Northern Spain, through the Pyrenees.

I had borrowed a backpack for this adventure and Glenn's 40 year old pack broke its last strap at our last hotel. Before the trip I was saying this may be a once in a lifetime adventure, and if that is the way it turns out, then it surpassed all expectations, but we have both bought new packs and our hopes are high for many such adventures. WE LOVE TO WALK!
An impromptu visit to Stonehenge on our first day in England.
July 1, 2010
Day 1 and 2 of our 25th Anniversary Celebration to England. I combine these days because we fly over the Atlantic leaving in daylight and arriving on the 2nd, in the bustling morning hours of Heathrow, missing the dark hours and the accompanying sleep. Glenn suggests we take a train to Salisbury, which is near Stonehenge, just in case I am able to overcome my anti-tourism sentiments!
We book a Best Western from the airport for ease and convenience after our sleepless night and figure we can tolerate one sterile American hotel. When we arrive at The Red Lion, which happens to be affiliated with Best Western, we are thrilled with the lovely 13th century inn, sporting tea rooms with old ornately carved furniture, a conservatory, where we had our first of many "full English breakfasts," and an outdoor tea garden. Our bed alone was worthy of a photo op: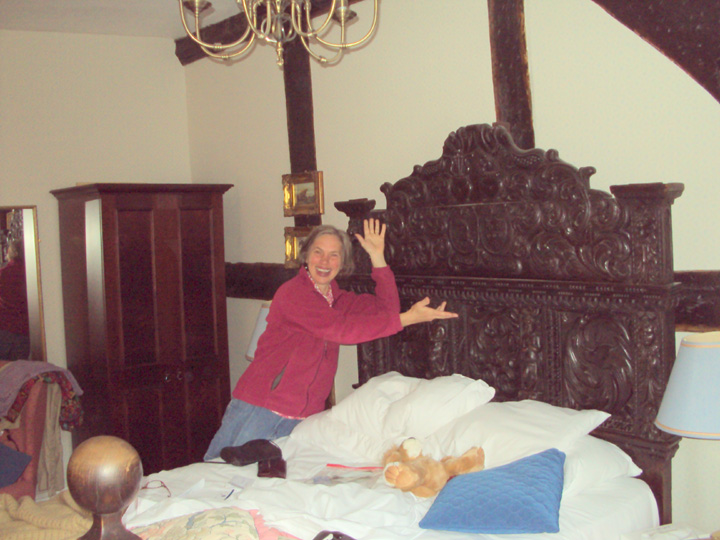 Our bed at the 13th century Red Lion Inn in Salisbury.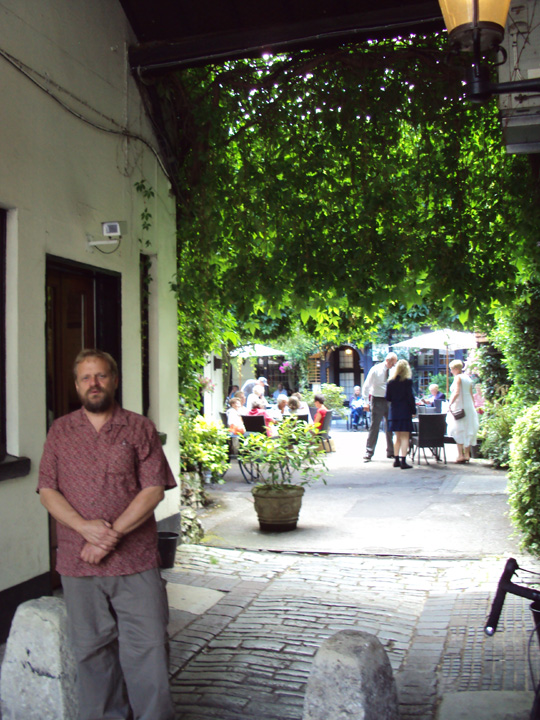 Looking into the tea garden of the Red Lion Inn from a street in Salisbury.

After walking about Salisbury for a bit, we hopped on a tour bus for Stonehenge and I am so glad we did. I had dreaded crowds and heat. But the day was mild and overcast and the English do these tourist spots so well. The great stone arrangement is roped off from a 20-40 foot distance, but we certainly felt their sacredness and power. We each carried our own hand-held recorders telling us from many different vantage points what is known about these stones, how they got here from 200 miles away, how they were chiseled to fit together and what might be construed by their arrangement. We were also supplied with suggestions as to the possible explanations about all the unknowns and downright inexplicable evidence in these ruins. So, although there were a lot of people, there was an ambiance of reverence and quiet.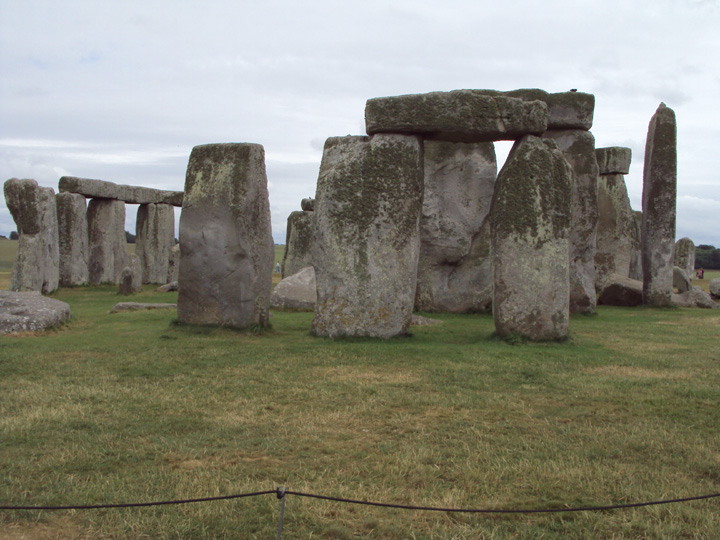 Despite all the photos that one sees of Stonhenge, seeing it in person is still a powerful experience.