Glenn walking back down from the keep at Arundel Castle.
Part of the newer section of Arundel Castle, build in the 19th century.

July 11, 2010: Geocache Day
We are glad to be back on the trail today, and Glenn finds his first geocache after days of the GPS being dead after our flight. I feel so vitalized and energized by being outdoors 12 or so hours a day surrounded by natural beauty.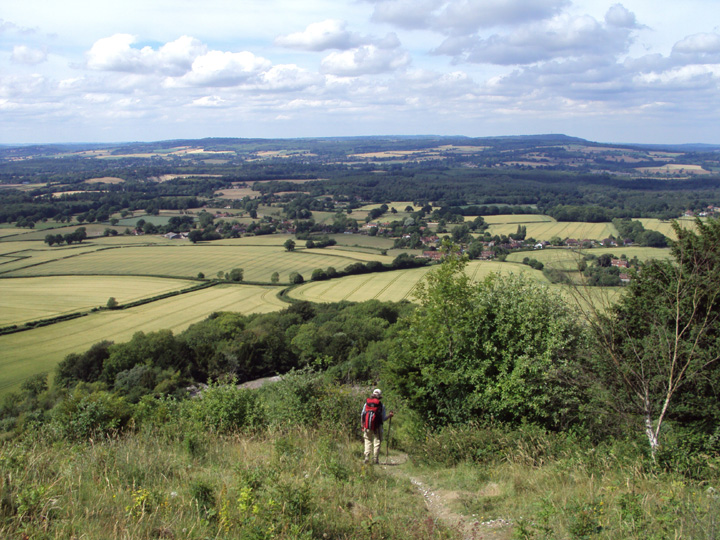 Michele against the backdrop of the English countryside: a typical day on the South Downs Way.
When we arrive at our final destination each day, we are not tired as we expected to be, but, after a shower, are ready for fun and exploration. This evening finds us in our favorite town so far: Steyning. We have been in utterly charming small villages, but this town has a little more to it, more like a town we could imagine ourselves living in. We find a great Indian restaurant for supper, where we strike up a conversation with a well-traveled waiter. In the evening we watch the final game of the World Cup with some Italian middle school students and their English teacher. I call Julius to ask who I should root for, but alas, the Netherlands lost 1- 0 to Spain in the last four minutes of the thirty minute overtime. We have a great room at a the Springwell Hotel, which can best be described as faded opulence, but had a big tub for bathing and laundry.
July 12th, 2020: Long Day
I know Medieval mentality has seeped into my consciousness when upon arriving at a
beautiful sweeping panoramic vista, my first thought is, "This would be a good place for a
fort." This is our 20 mile day, for which we have a Plan B. If after 10 miles, we are tired,
we will catch a bus to our evening's destination of Kingston. Early afternoon found us at
a nice pub for refreshment and ready for the rest of the day's walk. Around 6:00pm, we
thought we were almost there, having sighted for a few miles a big white thing, which we
were told was the base for an armless windmill and very near our B&B. When reality
didn't seem to coincide with our trail book, we realized we had a huge two mile or so
loop to make around a grassy bowl. Once over our chagrin, we enjoyed the incredible
evening breeze on top of the world!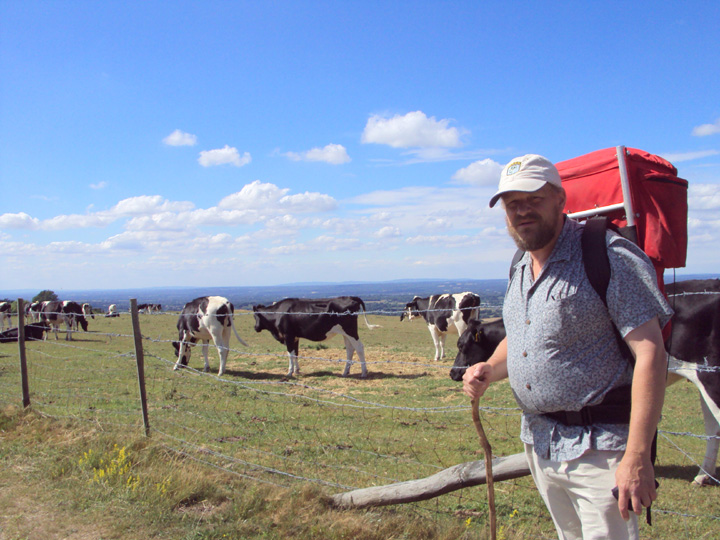 Glenn amongst the cattle, with the hills of the Isle of Wight far off in the distance, at the horizon.