Our Hiking Adventure Along the South Downs Way
Page 8
Go to Page: 1, 2, 3, 4, 5, 6,

7

July 18th, 2010: Travel Day


How can such a short distance on a map take so long? Funny, I never thought about this when we were walking, but now that we are taking trains, tubes and buses, it feels like transportation saps time and energy in ways that walking didn't. We decided to settle in Horley, near Gatwick Airport, which we will be flying out of in 3 days. How can it be only 3 days away? I am feeling greedy and want this responsibility-free vacation to go on and on. Does this sound like the home-tethered Michele that everyone knows? I am loving every minute of it. We have two days to explore London.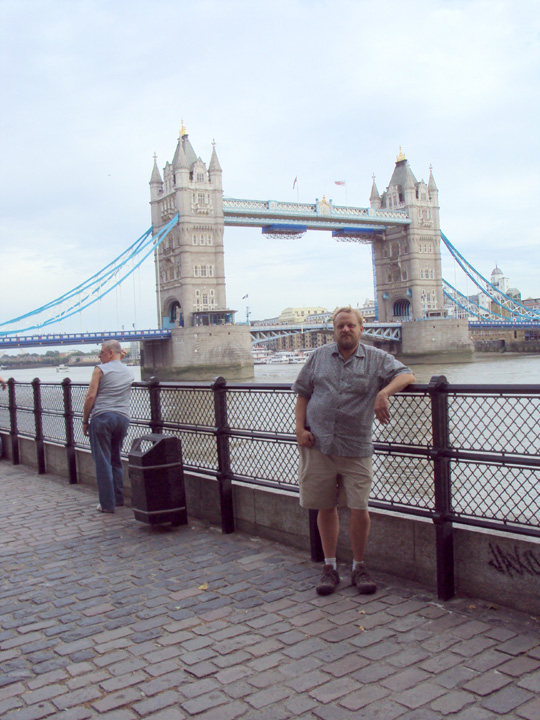 Glenn in London, with the Tower Bridge in the background.
July 19th, 2010: London

We get tickets for "Oliver" and then go visit a friend about a half an hour out of London. It is wonderful to be welcomed by Gen's goddaughter, Sarah, to her home and meet her three children that I have only known through Christmas pictures these last 10 years. We make it back to London in time to eat at a great Greek restaurant before the theater. The show is lovely with outstanding sets. Afterwards is the best part when we walk along the Thames, up one side, cross a bridge and then down the other, enjoying the late night air in all these public spaces along the river.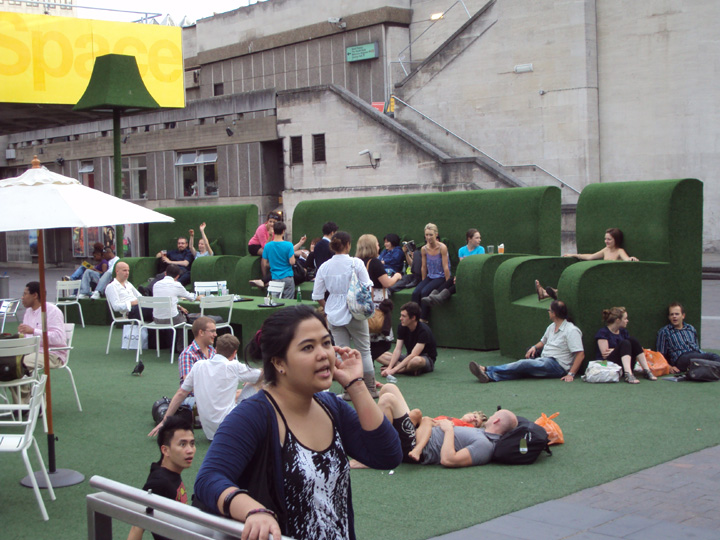 Typical public space on the walkway along the Thames.
Michele on the public walkway along the Thames.

I call Marcia to share the moment of joy with her. Reluctantly we take the train back to Horley and arrive in the wee hours.
July 20th, London Day 2
We begin the day with a tour on top of an open air bus, sitting next to the very fun and informative guide. A boat tour on the Thames was included for later in the day, with "a mere skipper with no pretensions to being a tour guide", who filled us with details in his dry wit.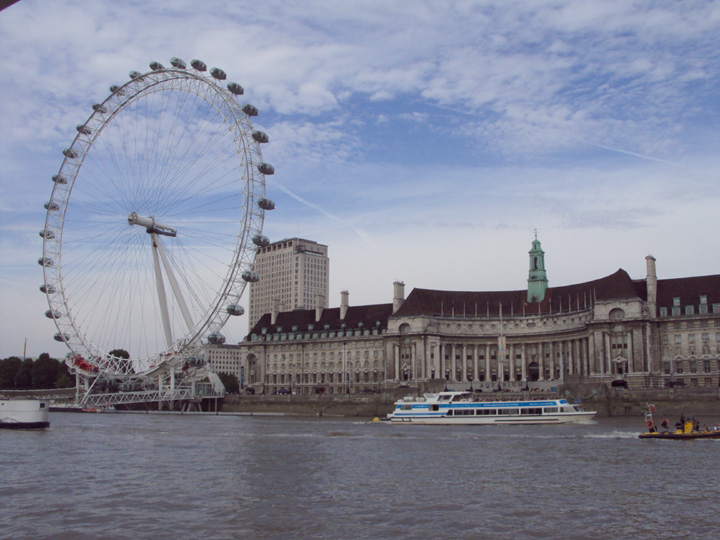 Along the Thames, London is a mix of the old and the new.
Rather than visiting The Tate, the modern museum, he suggested we just drop by his flat to see paint splattered on walls and light switches that turn off and on.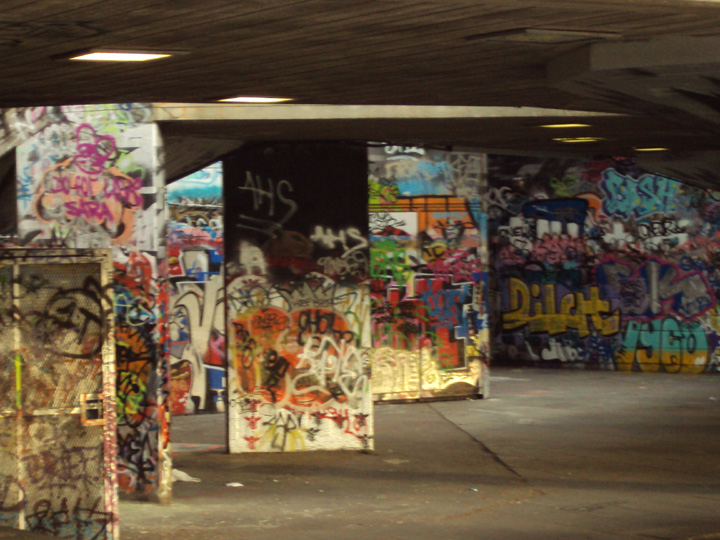 Apparently, our tour guide mistook this skateboard park along the Thames for the Tate Gallery of Modern Art.

I was grateful for the opportunity to be so passive on these tours because I was feeling tired from our previous late night.
It was after dinner and our last walk along the Thames that our energy was restored.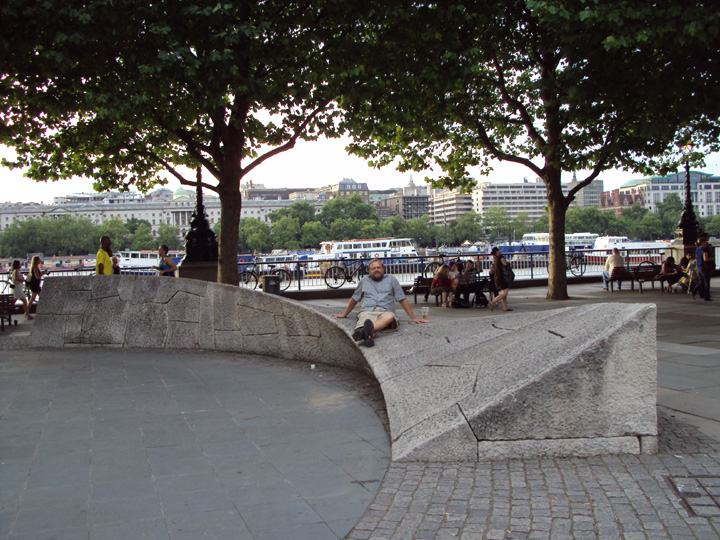 Glenn relaxing along the Thames walkway during our last night in England.

The air was a perfect coolness to be surrounded by hoards of tourists, Londoners and a whole menagerie of street performers. One of our favorites was a man who in a simple black suit and white gloves would pose as a statue, then draw in an audience member to pose with him. He would situate their feet, arms and torso just so and cock their head just right and then link his own body to theirs in some way. The effect was immediate and funny. We took the opportunity to photograph this headless Victorian couple.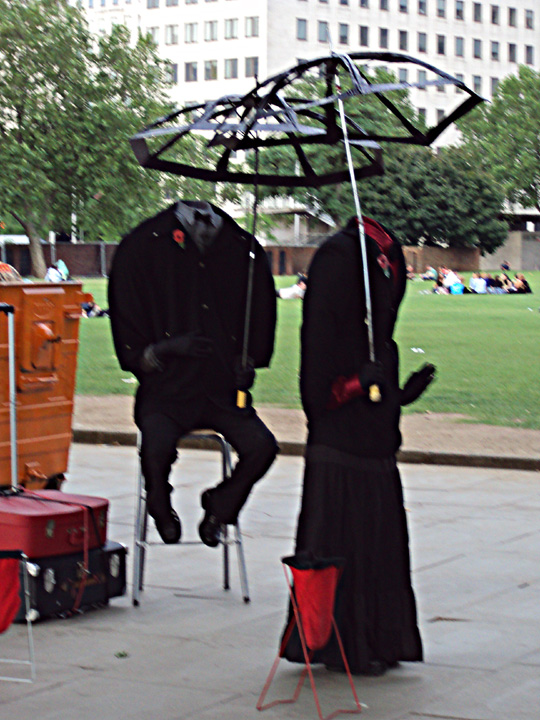 A couple of street performers along the Thames walkway.
It was a glorious evening. We walked back to the train station, skipping the tube, to inhale every last exquisite moment of London.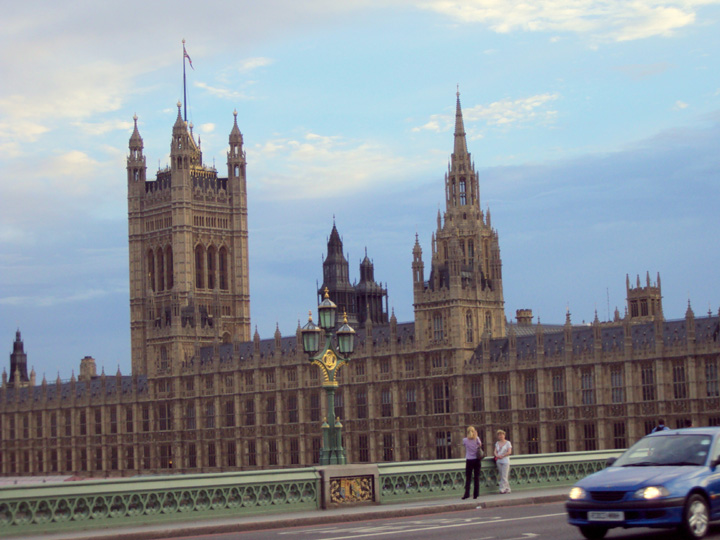 The Paliament building in London.