Our Hiking Adventure Along the South Downs Way

Page 4
Go to Page: 1, 2, 3, 5, 6,

7,

8



July 8, 2010: Day 8 (Overshot to Heyshott Day or Sheep Day)


Our path leads us through sheep grazing fields with a barely worn path telling us which way to go.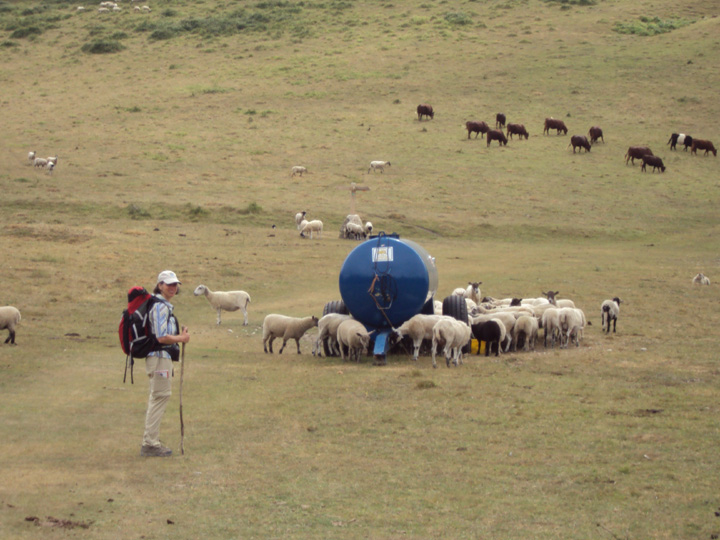 Michele, bravely chasing the killer sheep out of our way.

At one point the sheep lined up to block our way...but not for long. Baaa.


We round a bend in the trail and guess what we see approaching us from the other direction.

When we began to see landmarks for tomorrow's walk, we realized we had overshot our village by about a mile or so. Apparently someone had vandalized the signpost directing us to Heyshott from the trail. It had been a hot day high on the ridge and I was sorely disappointed to realize we had backtracking to do. Our descent into Heyshott was treacherously steep and all the while I was thinking we would be climbing this bugger in the morning!! Our warm welcome at what ended up being my favorite B&B more than made up for getting there. Our very gracious host and hostess gave us some great suggestions as to how to spend our off-trail days at the end of the trip and dropped us off at an excellent pub for a great dinner, where we ate on a terrace with a view of the sun setting over the ridge.


In the morning our usual "full English breakfast" of juice, tea, coffee, cereal, bacon, sausage, eggs, baked beans, grilled tomatoes and grilled mushrooms, was made special by smoked salmon added to my scrambled eggs and fried potatoes. Our hostess, Judy, took great pleasure in her B&B and lavished us with special touches. She even drove us to be next access point, so we did not need to make that grueling climb out of the village. Although those breakfasts may sound heavy, they served us very well.
We passed by a beautiful field of flax on our way to Amberly
July 9, 2010: Day 8 (Flax Day)
Fifty miles down, fifty to go. We had planned a day off at this point to rest and recreate off-trail in Amberly or wherever we might catch a bus to. Again, I had neglected to confirm our arrival time, so we arrived to an empty, locked B&B. As a consequence I made friends with the young, helpful bar mistress at the Sportsman Inn next door, which became a hang out for us while we waited for our hostess to return. It struck me then that when all goes as planned, we don't need people to help us and therefore often don't make a connection with them. When we came by the Sportsman Inn in the next couple of days, she would greet us by name and seemed to take extra good care of us.