Thailand: Koh Phi Phi


Our last weekend in Thailand, Isaac, Lindsay, Glenn and Michele went to the beautiful island of Koh Phi Phi taking a 90-minute ferry ride from Phuket. We stayed at a beautiful, rustically-decorated resort that Julius, Carrie and Isaac had stayed at the previous November.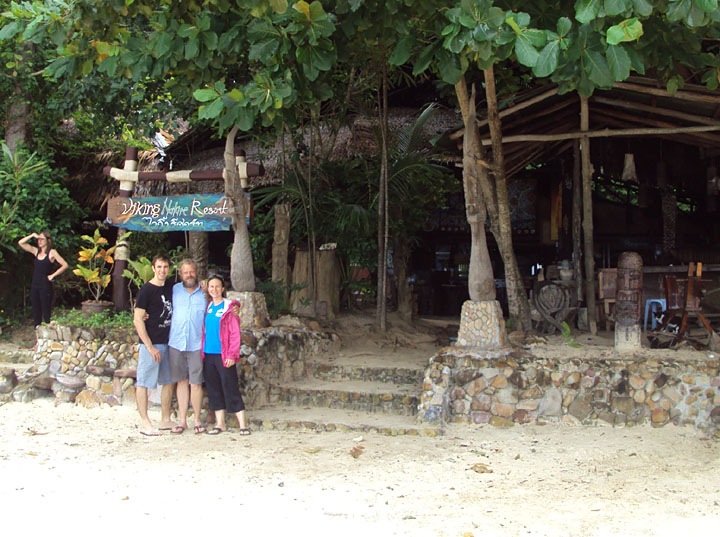 Isaac, Glenn and Lindsay on the beach in front of the "lobby" and restaurant of the Viking Natures Resort on Koh Phi Phi.
The resort was set up as a series of tree houses. Each "tree house" had its own balcony porch.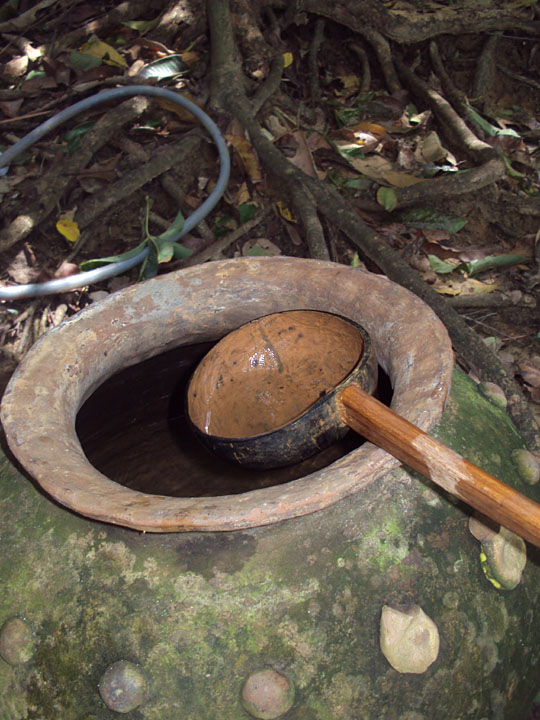 Each tree house had its own do-it-yourself footbath at the stairs leading up to the balcony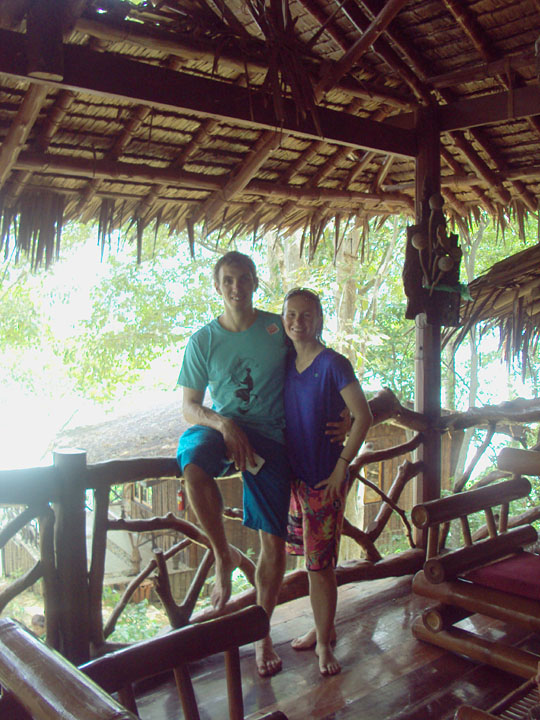 Isaac and Lindsay on the balcony overlooking the beach.

The porches were the "living areas" with couches, tables and hammocks.


Glenn relaxing in the hammock after a hard day of relaxing someplace else.


The rooms were rustic but breezy and comfortable.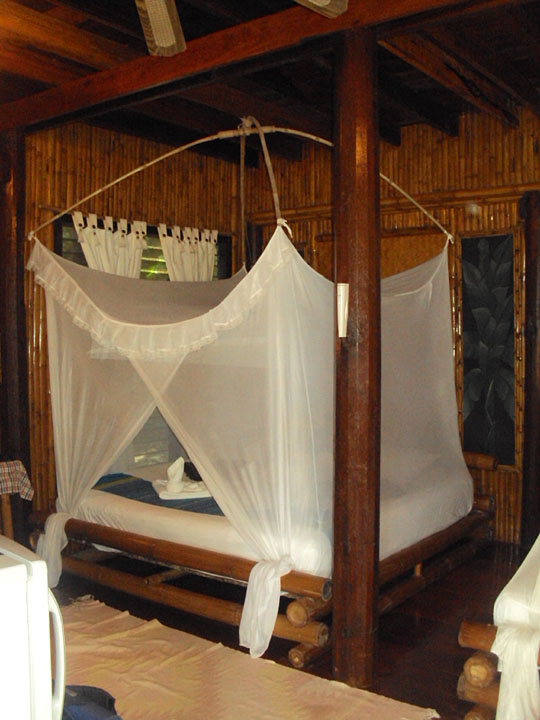 Our bed with mosquito netting at the Viking Natures Resort on Koh Phi Phi.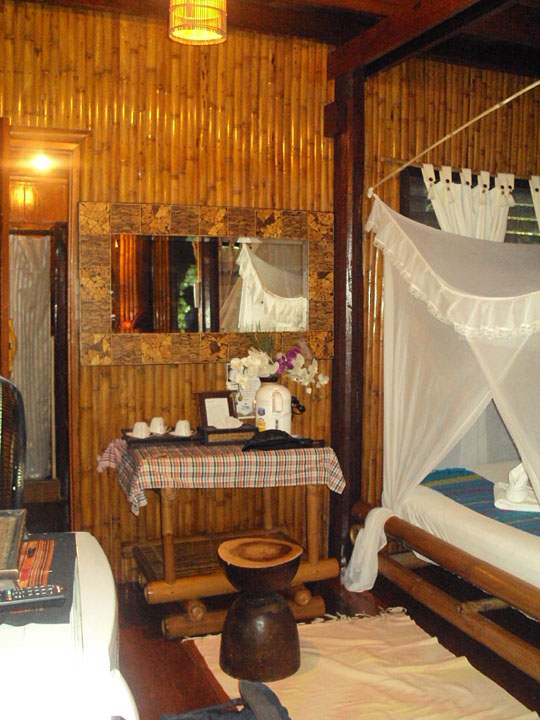 Another view of our room


The resort restaurant opened to the beach, with furnishings largely made from driftwood.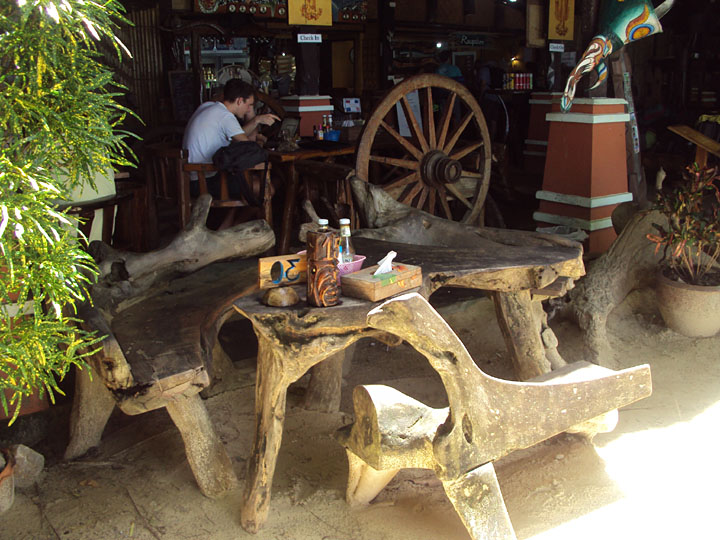 A driftwood table and chairs in the beachfront restaurant.




A driftwood table for two, with the rainforest as a backdrop.


We all played in the beautiful aqua waters and felt a sense of shared delight and happiness. We spent a lot of time hanging out at ocean-side cafes drinking yummy shakes and playing our family's favorite card game "Pitch" to the sound of lapping waves.

During one of our forays into the tourist-jammed commercial areas of the island, we encountered a gibbon "tout," someone with a gibbon that she encouraged tourists to hold and photograph in the hopes of receiving tips. Gibbons are protected in Thailand, and touting them is illegal on Koh Phi Phi. Isaac surreptitiously photographed this tout with her gibbon.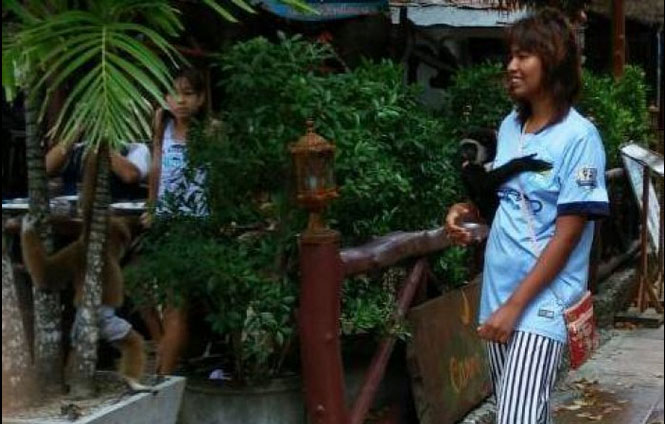 A tout on Ko Phi Phi with her gibbon.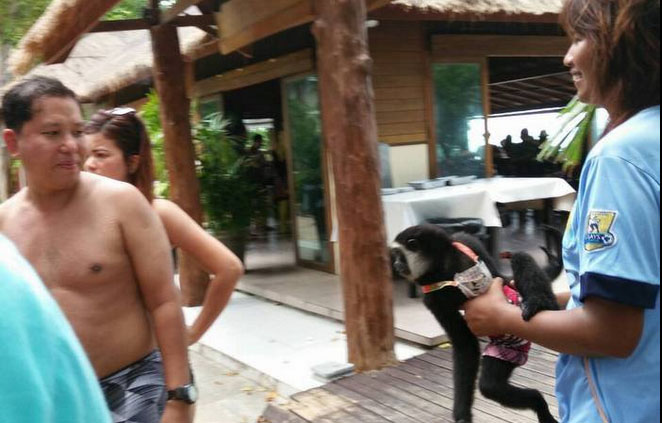 The tout, offering her gibbon to an ambivalent tourist.


After returning to Phuket, Isaac published the photos in the Phuket Gazette along with an article calling on the local authorities to enforce the law. Two weeks later he published a second article saying that the tout had been arrested (and will likely have to pay a small fine) and that her gibbon had been confiscated and would be sent to a wildlife sanctuary.


The rescued gibbon, now at the Phang Nga Wildlife Nursery Station.


We met many of Isaac's friends and co-workers, and we appreciated their warmth and generosity. We are happy that he has a life full of friends, good work and lots of opportunities for the outdoor sports he loves—diving, climbing, surfing and swimming.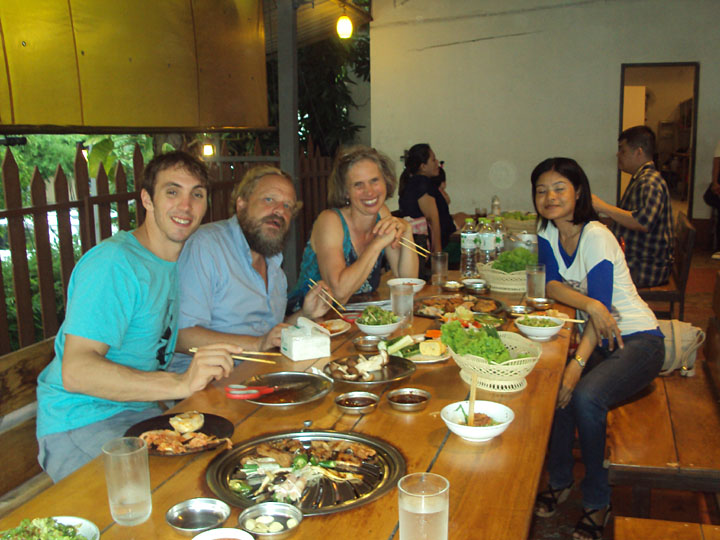 Dinner with Nangy, one of Isaac's dear friends. Unfortunately, her eyes are closed in this picture, and we don't have another photo of her.


Thank you Isaac for being a wonderful host for our trip to your part of the world.


Go to page: Cambodia: 1, 2, 3, 4, 5, 6, 7, 8,
Thailand: 9, 10, 11, 12


---
Last Updated September 7, 2015

Email Glenn Simonelli Email Michele Stone
Glenn Simonelli's Home Page
Website contents copyright 2015 by Glenn Simonelli & Michele Stone.
All rights reserved