Thailand: New Adventures
Back in Thailand, we made our selves very comfortable in Isaac's apartment with swimming pool just feet from his patio doors. Isaac gave us his bed and had bought new pillows, towels, and coffee mugs for us. It felt good to be so welcomed.
The bed and bedroom that Isaac graciously turned to over to us.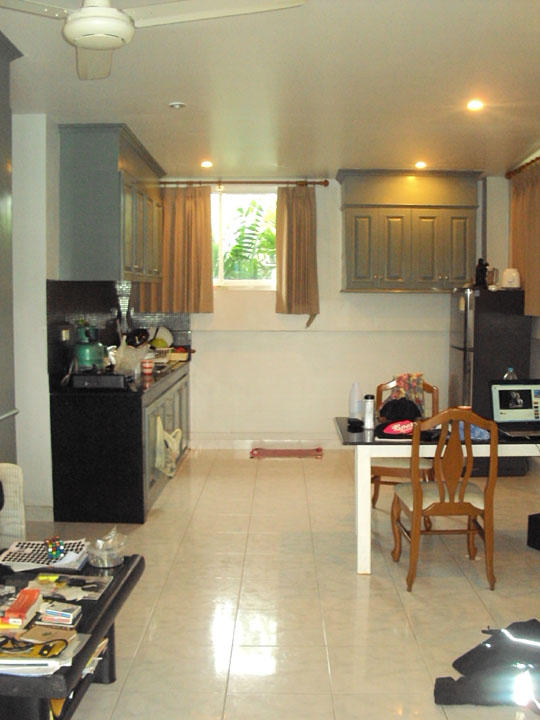 The kitchen and dining area.
Each morning I sat in a special wooden glider with my tea and journal, attempting to capture the previous days events on paper.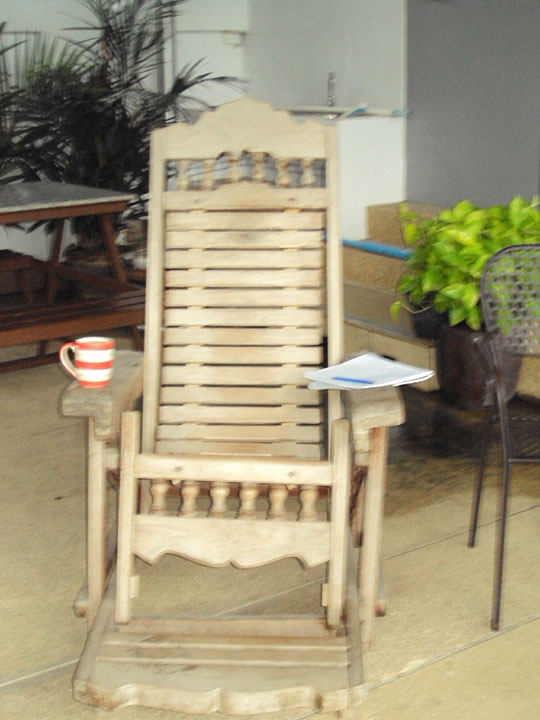 This wooden glider helped facilitate Michele's morning tea ritual.
We often ate dinner out and Isaac knew a wide array of interesting places to go. He took care of ordering the food and we usually had many dishes in the middle of the table, from which we all shared. For me eating or stopping eating had nothing to do with hunger or satiation. I simply ate because delicious food was in front of me. And it was so inexpensive!
Phuket is an island off the southern end of Thailand and known worldwide, at least among divers, as the go-to place. It has an international airport, 5-star resorts, beautiful beaches and incredible diving spots. We flew into the airport and spent some time on a couple different beaches swooning at the beauty of the shining moon or setting sun. One evening we had drinks and played cards at a beautiful beach resort, with water lapping a few feet away. We were celebrating Isaac's receipt of his Dive Master certificate, the culmination of a 10-year pursuit. Unfortunately due to the monsoon rains, the waters were too turbulent to snorkel.



Buddha Encounters



Buddhism is widespread in Thailand and plays a large part in the lives of many of its people. Many homes have shrines to the Buddha where offerings are made. . .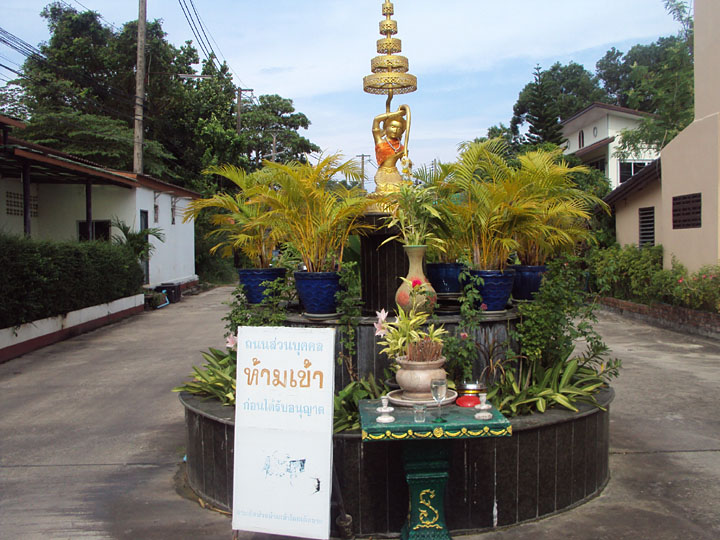 A Buddhist shrine in the middle of the street.


. . . and elaborate Buddhist temples are as common as churches are in the U.S.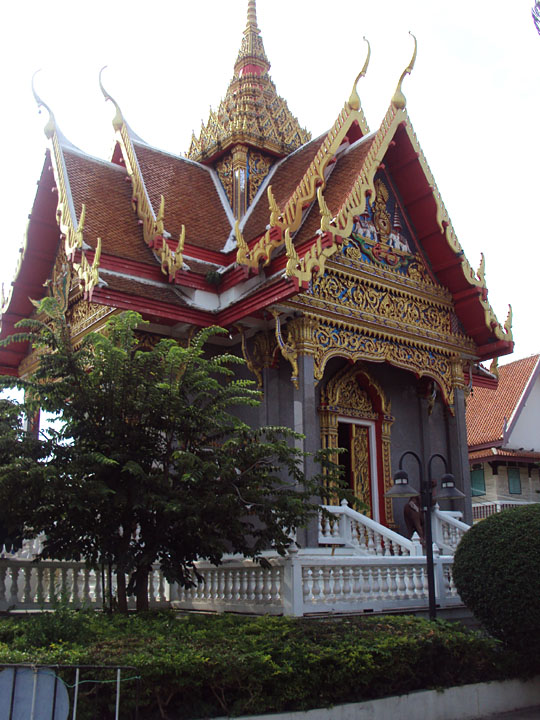 Wat Ladthiwanaram, a Buddhist temple near Isaac's apartment.


There was a temple near Isaac's apartment called Wat Chalong that we walked to one day.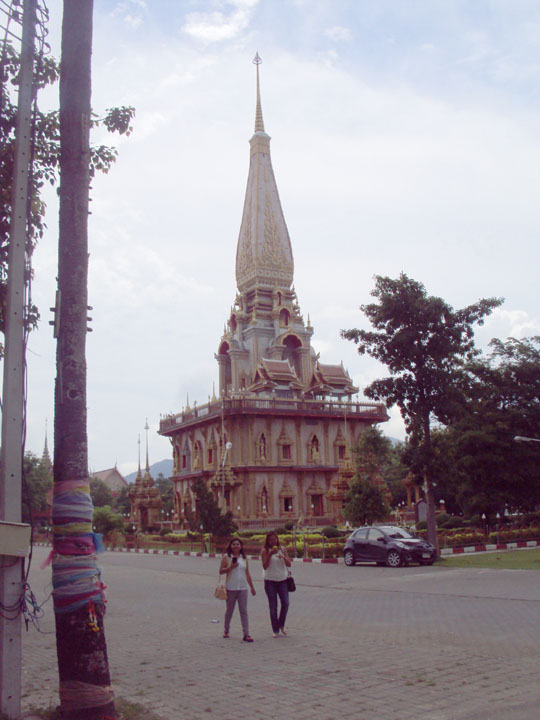 Wat Chalong, also near Isaac's apartment.


Turned out to be the day of the Buddah's birthday celebration, an important holiday. There were many visitors and vendors on the temple grounds. People bought flowers and incense to leave on the alters in the temples. Bags of food were fed to the ravenous catfish in the lake bordering the grounds. Some of the vendors, strangely, were selling plastic water-filled bags containing fish, eels or frogs. Several were selling caged birds.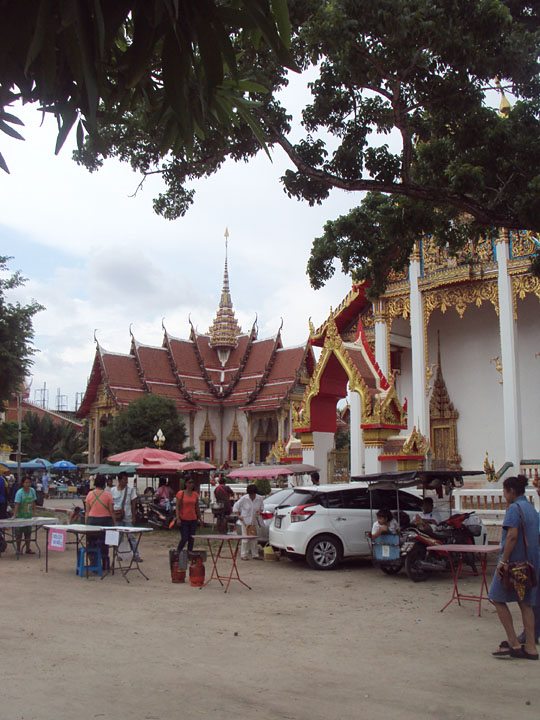 Vendors in the Wat Chalong complex, closing up shop at the end of Buddha's birthday celebration.


People would buy animals from these vendors, take them to the lake that bordered the temple complex, and then set them free in the lake (or the air) in honor of the Buddha's birthday.


A woman about to release a small black bird, in her hands, in honor of the birthday of the Buddha.


We sat by the lake for a while sipping coconut water . . .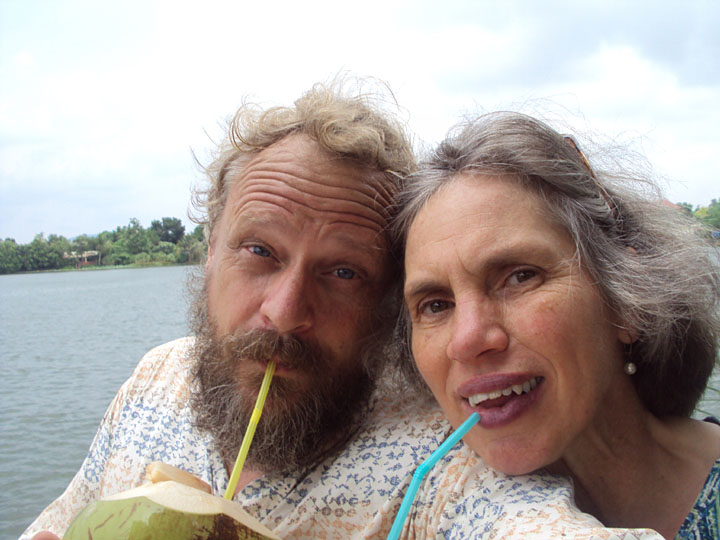 Another (gasp!) selfie, taken by the lake next to Wat Chalong.

. . . and watching the faithful release their live offerings back into the wild.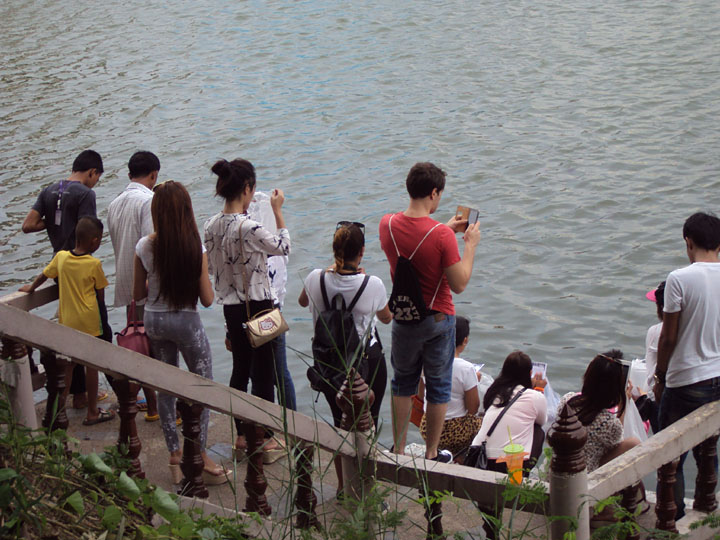 Celebrants releasing fish, eels and frogs into the lake bordering Wat Chalong, (except for one person looking at his Smartphone).
Next Page
Go to page: Cambodia: 1, 2, 3, 4, 5, 6, 7, 8,
Thailand: 9, 10, 11, 12

---
Last Updated September 7, 2015

Email Glenn Simonelli Email Michele Stone
Glenn Simonelli's Home Page
Website contents copyright 2015 by Glenn Simonelli & Michele Stone.
All rights reserved