Cambodia: The Temples
Angkor Wat:
We began Isaac's birthday before dawn at Ankor Wat (pronounced "Uncle What?"). Arriving in near solitude on the eastern side, we walked around the temple complex to join hundreds of other visitors awaiting the sunrise, which was probably quite beautiful behind the cloud cover. Despite the hidden Sun, the reflection of the five main pillars in the moat still inspired awe.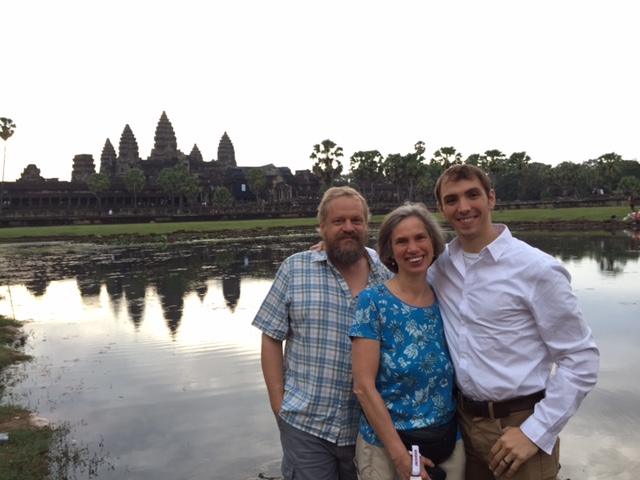 Glenn, Michele and Isaac in front of Angkor Wat at "sunrise."


Like Bayon, the interior walls of Angkor Wat are covered with elaborate bas reliefs. Unlike those at Bayon, these have never been exposed to the elements and still retain all their original, exquisite detail.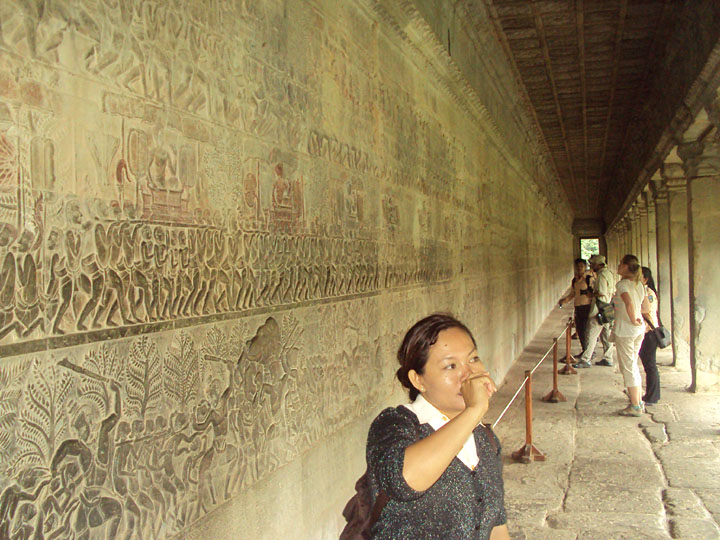 Solin explaining the mythology of the bas reliefs. The carvings on this wall are divided into three separate levels: those at the top represent the heavens; the ones on the bottom are scenes of the underworld; Earth is depicted in the middle level.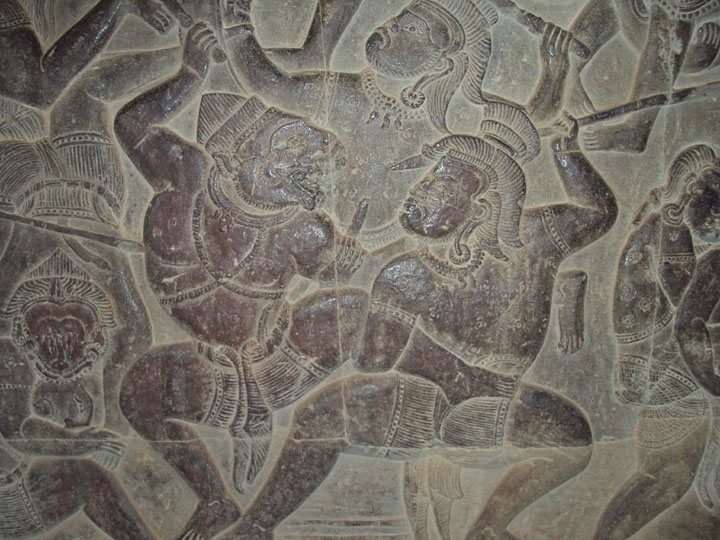 A battle between a demon, on the left, and a god, on the right.




Another scene from the epic battle between gods and demons. The carvings were painted; some of the original paint can still be seen in the recesses.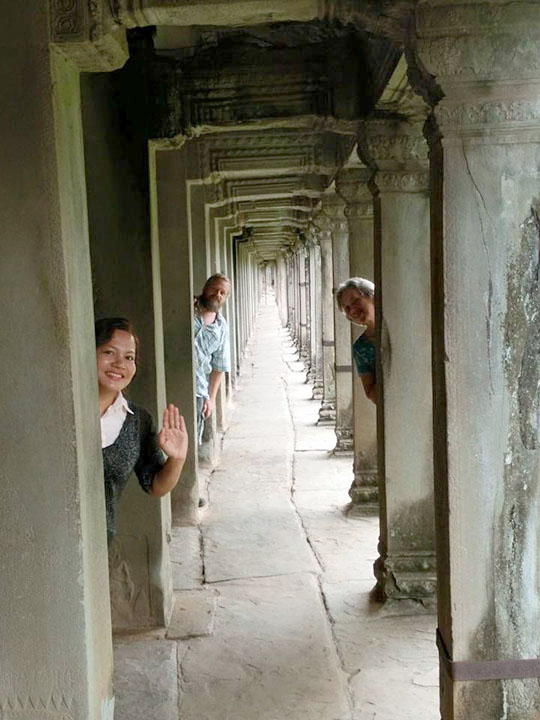 Looking down one of the many hallways.


The steps leading up to the topmost pillar in the center of the temple were closed off in the early morning, and a long line of people were waiting for them to open.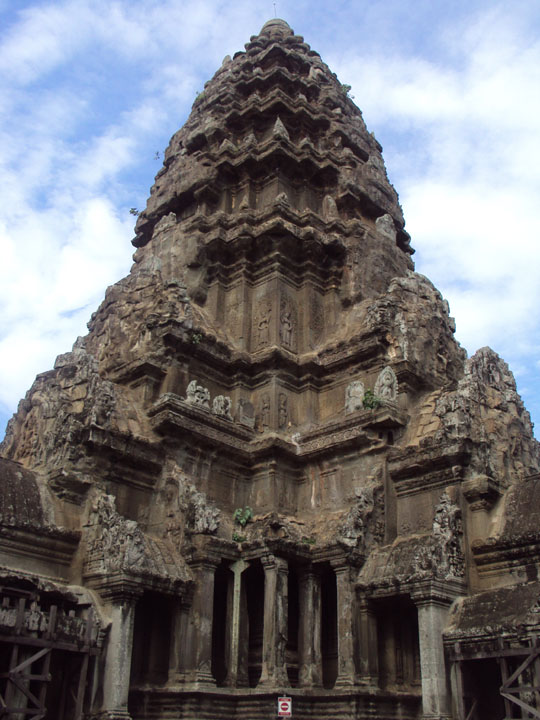 The central pillar of Angkor Wat


At around 7:30 A.M. several Buddhist monks were allowed to ascend and leave offerings at the pillar's shrine. After about 15 minutes the monks came down, and the tourists were allowed up.
Monks climbing the steep, narrow steps into the central pillar.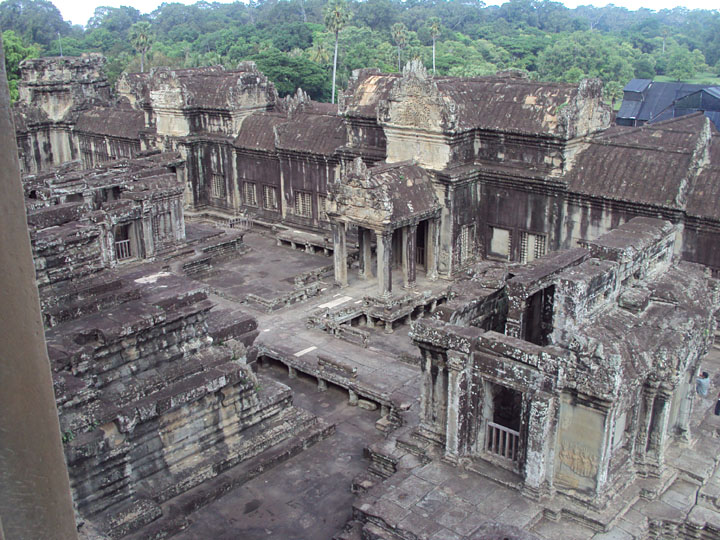 Overlooking the southwest section of the temple from the central pillar.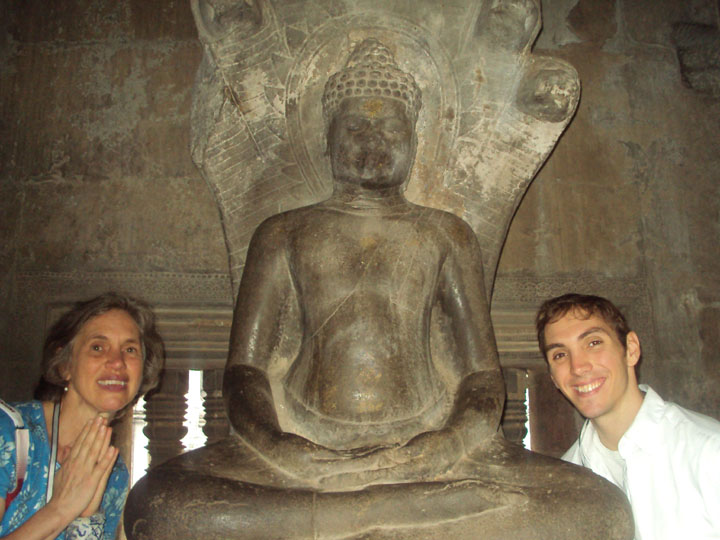 Michele and Isaac aside a meditating Buddah protected by Naga, the seven-headed serpent, behind him.
Next Page
Go to page: Cambodia: 1, 2, 3, 4, 5, 6, 7, 8,
Thailand: 9, 10, 11, 12

---
Last Updated September 7, 2015

Email Glenn Simonelli Email Michele Stone
Glenn Simonelli's Home Page
Website contents copyright 2015 by Glenn Simonelli & Michele Stone.
All rights reserved