Our Adventures in the Outback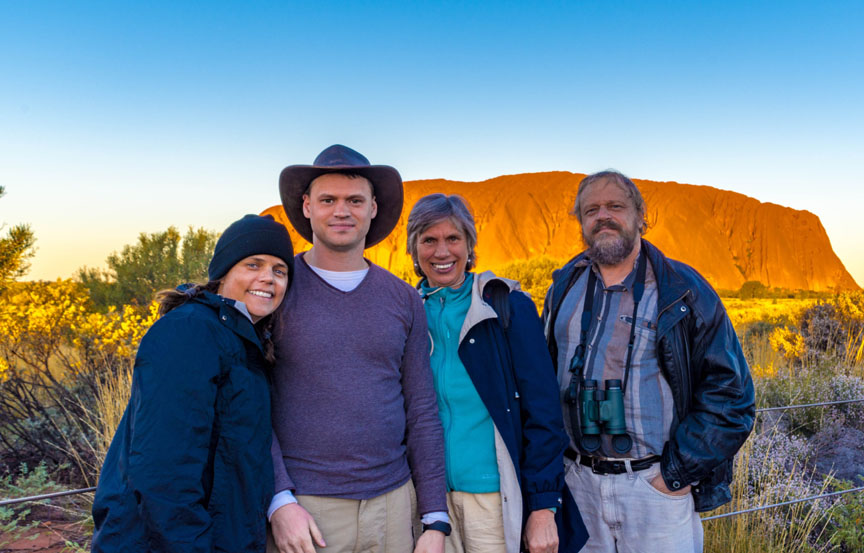 Carrie, Julius, Michele and Glenn - the four intreped travelers at Uluru.
Page 4:
Four Days, Three Nights Camping in the Outback

Ellery Creek
We started our trip to Kings Canyon with a brief stop


at Ellery Creek, a beautiful tropical swimming hole in the middle of the Outback.




Carrie revelling in the beautiful surroundings.

Our second stop was at the magnificent Serpentine Gorge
.
At another stop we spent some time exploring the ochre pits.
The aboriginal people used the ochre
here for medicine and decoration.

We ate our packed lunch outside and wandered down to the river where we saw a beautiful white-faced heron.

Gosse Bluff

We made one final stop at Gosse Bluff to see the remains of an ancient impact crater.


Then it was on to Kings Canyon!


Pulling in late and after dark, we barely made it to the only place to eat at King's Creek Station before they closed up for the night. Our burgers and potato wedges were the last orders of the day. Enjoyed eating at the communal campground tables within the screened-in porch area.
We set up our tents in the dark on the "lawn" as opposed to a specified campsite. Our tent door faced Julius and Carrie's, making it easy to call out our "Good Nights" and "Good Mornings" from our two-feet high air mattress they had bought for our comfort. Now, we are spoiled!