Our Adventures in the Outback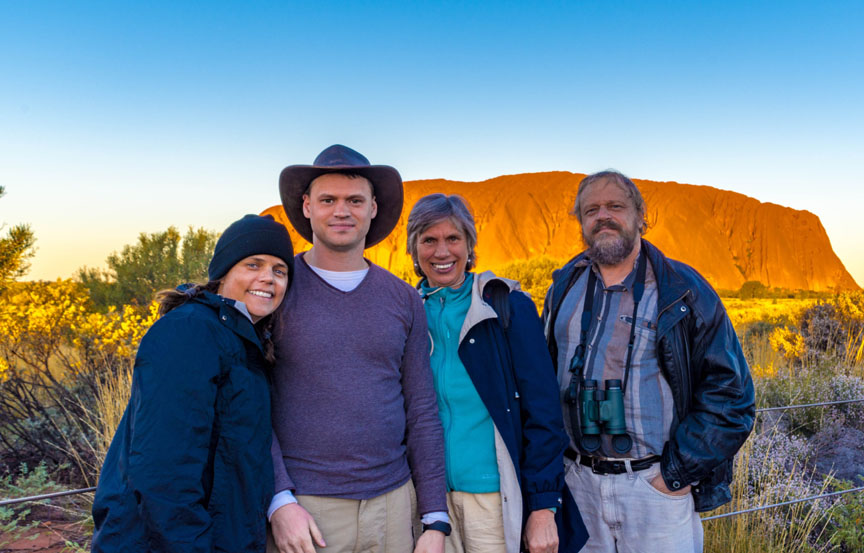 Carrie, Julius, Michele and Glenn - the four intreped travelers at Uluru.
Page 8:
Our final day/evening in Alice Springs
A day to clean up from camping. Carrie worked on obtaining her visa, while Glenn and Julius did some birding nearby.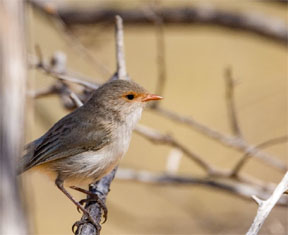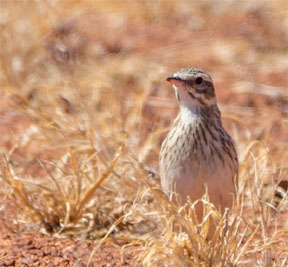 A female splendid fairywren Australasian pipit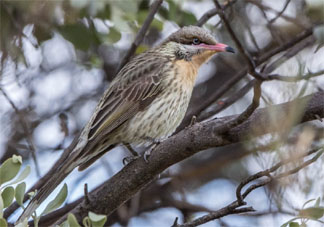 Spiny cheeked honeyeater
Southern whiteface

We convened early to plot our evening to make sure we fulfilled our wish lists of things to do here. Near sunset we trekked up to Trig Hill at Telegraph Station for night spotting of critters. We were gifted with music wafting up from a party at the station. We rested at the top and spotted several wallabies before the sun disappeared. Tooled with headlamps, we began to see the glow of wallaby and wolf spider eyes.

We had a lovely family-style dinner at a Vietnamese open-air restaurant on the far south end of town, out in the middle of nowhere, with lush white roses, old TV's, gutted and reconstructed with plant scenes inside. Julius suggested a game of roses and thorns, where each of us suggested something especially wonderful (a rose) or difficult (a thorn) from our trip so far. There were so many roses, the success of the camping trip, unusual bird sightings, Simpson's gap, and the climb to Mt. Gillen, the pleasure of being together. It was harder to come up with thorns: lack of clarity as to Carrie's work visa and my losing my favorite (and only) fleece on the first flight.

| | |
| --- | --- |
| | |
Then, fulfillment of my wish to star gaze at the big open skies of outback Australia. As soon as we set up in the Ilparpa Claypans, I saw a falling star. We got there in time to beat the rising of the nearly full moon. The Milky Way was on full display, when looked at through Julius' special night binoculars. What previously looked like dust clouds became billions of individual stars.

| | | |
| --- | --- | --- |
| | The night sky over the Ilparpa Claypans | |