Our Adventures in the Outback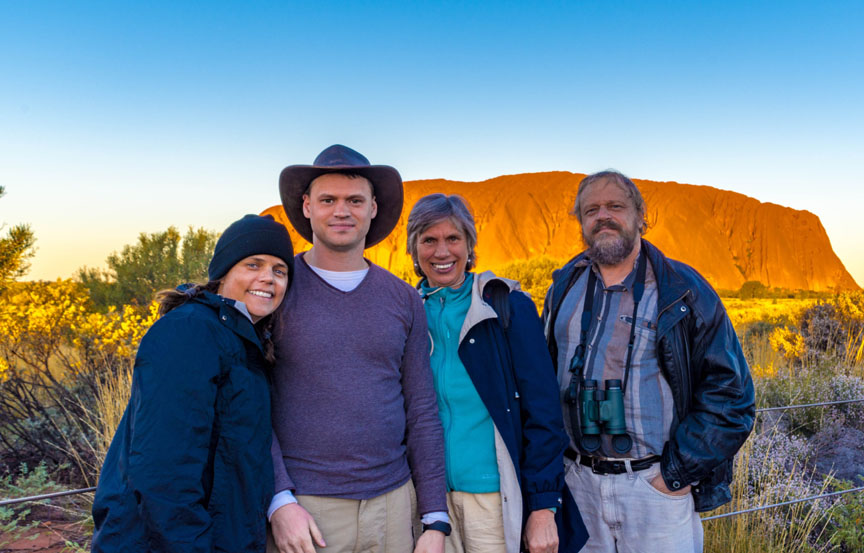 Carrie, Julius, Michele and Glenn - the four intreped travelers at Uluru.
Page 7:
Kata Tjuta
After breaking camp, we made our way to Kata Tjuta, where we hiked through the "Valley of the Wind."



Kata Tjuta, from about 40 kilometers away.



Unlike Uluru, which is sandstone, the giant formations of Kata Tjuta
were all conglomerate.

How can anyone resist striking a yoga pose is such beautiful surroundings?




A happy hiker.




Another glorious afternoon in the amazing outback.




Taking a breather among the conglomerate hills and cliffs.


Apparently no jaw-dropping geological formation in the outback
is complete without a spring oasis.


A long, 5-hour drive home was insterspersed with pull-over bird sightings . . .

| | |
| --- | --- |
| A brown falcon | A whistling kite |
At one point on the ride home we saw a group of at least 30 raptors--whistling kites, nankeen kestrals, and brown falcons--feasting in the air on a swarm of locusts.



A brown falcon about to catch a locust in the air and then eating it on the wing. Notice all the other locusts in the second photo.


. . . a nice view of Mount Connor, frequently mistaken for Uluru by tourists and thus, often called "Fool-uru" . . .



. . and a couple of roadside camp/restaurant/caged birds/emu farms/gas/bathroom places.

| | |
| --- | --- |
| | Although we weren't supposed to drive the rented car after dark, we were still 3 hours from home at sunset. We passed three kangaroo killed along the road. |